THE SHOW SCHEDULE
○

For best availability

△

Limited availability

×

Not available
If you cannot purchase tickets using the above calendar, please try clicking on the banner below. Another ticket purchase site (Japanese Ticket Agent: eplus) will be displayed. If you have any other problems, please do not hesitate to contact us at info@gear.ac.
TICKET FEE
Reference (all seats)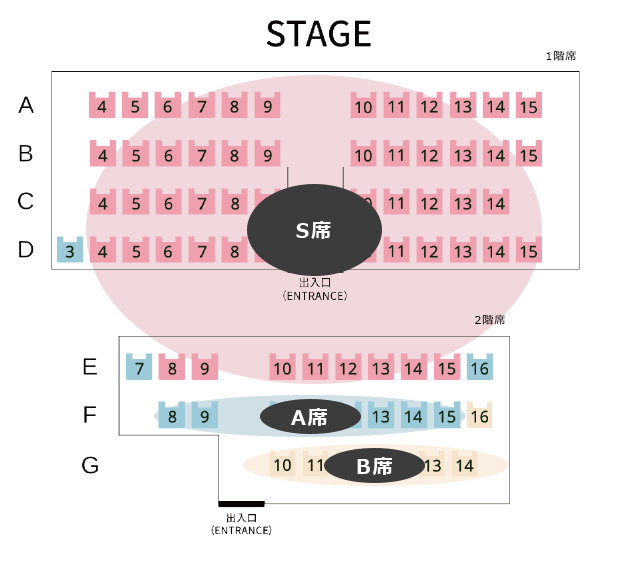 ▶︎ Expand ◀︎
How to Purchase
Please choose from vacant seats



. Select the seat you would like, then click the green [Agree to Terms of Use and Proceed] button after reading the Terms of Use. At the time of purchase, you will need to confirm [Event date], [Ticket type], and [Customer information (name, phone number, email address, credit card number)]. Please carefully review the information you have entered before purchasing. Seats marked

cannot be selected, as they are currently listed on other ticket sales websites, etc.
After you make a reservation, you will receive the details including your reservation number to your email address.
Please note your 4-digit number which is needed to issue your ticket at GEAR Theatre.
In case of no reply from us, please check your spam folder.

If you have any questions or need more information, please don't hesitate to contact us at info@gear.ac.
ADVANCE /
AT DOOR
S-seat
A-seat
B-seat
General
6,800JPY
4,800JPY
3,400JPY
Elementary, Junior high- and
High school students
4,800JPY
3,800JPY
2,400JPY
pre-school children
(ages 4 and over) *
800JPY
800JPY
800JPY
*DOOR OPEN 30min before the show starts
*The venue of GEAR Theatre is located in the old building built in 1928,we have only 72 seats in limited capacity.
(Each seat is rather small ,approx 18"×18")
Reservation in advance is preferable. Thank you.
*We don't allow kids under 3 years of age to enter the theatre for security reason.
But every 1st&3rd Saturday of the month, we welcome any aged children for the matinee.